Event Period: Dec. - Jan. 31
For Sparkling Holidays, Enjoy Coke! Join the iconic Coca-Cola Polar Bears in this historic 5K/10K/13.1 run/walk you can't leave out of your holiday plans!
Limited Edition of 15,000 Packets Ship Every 3-5 Days!
Sizing Chart / Shirt Type
Regular price
Sale price
$50.00
Unit price
per
Sale
Sold out
View full details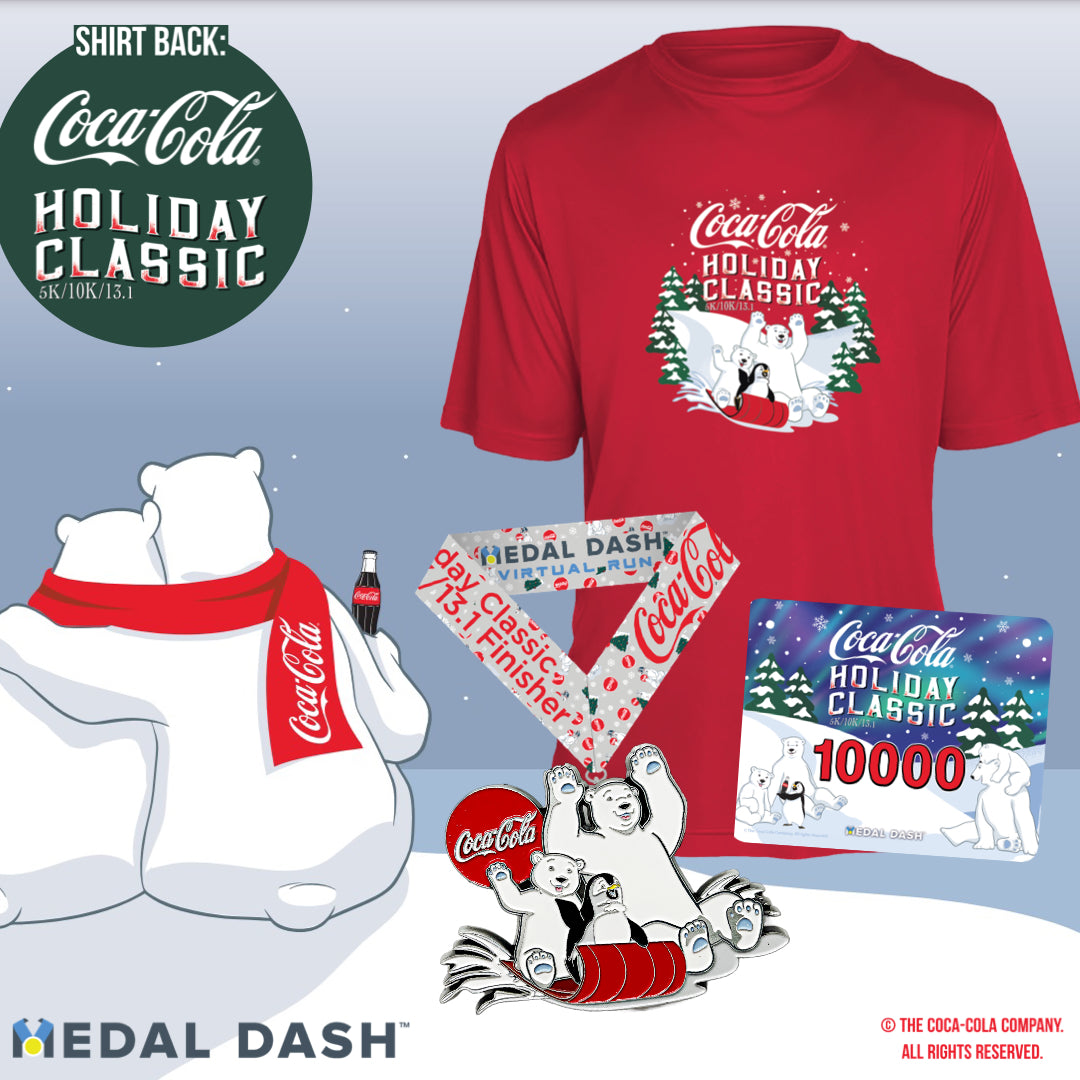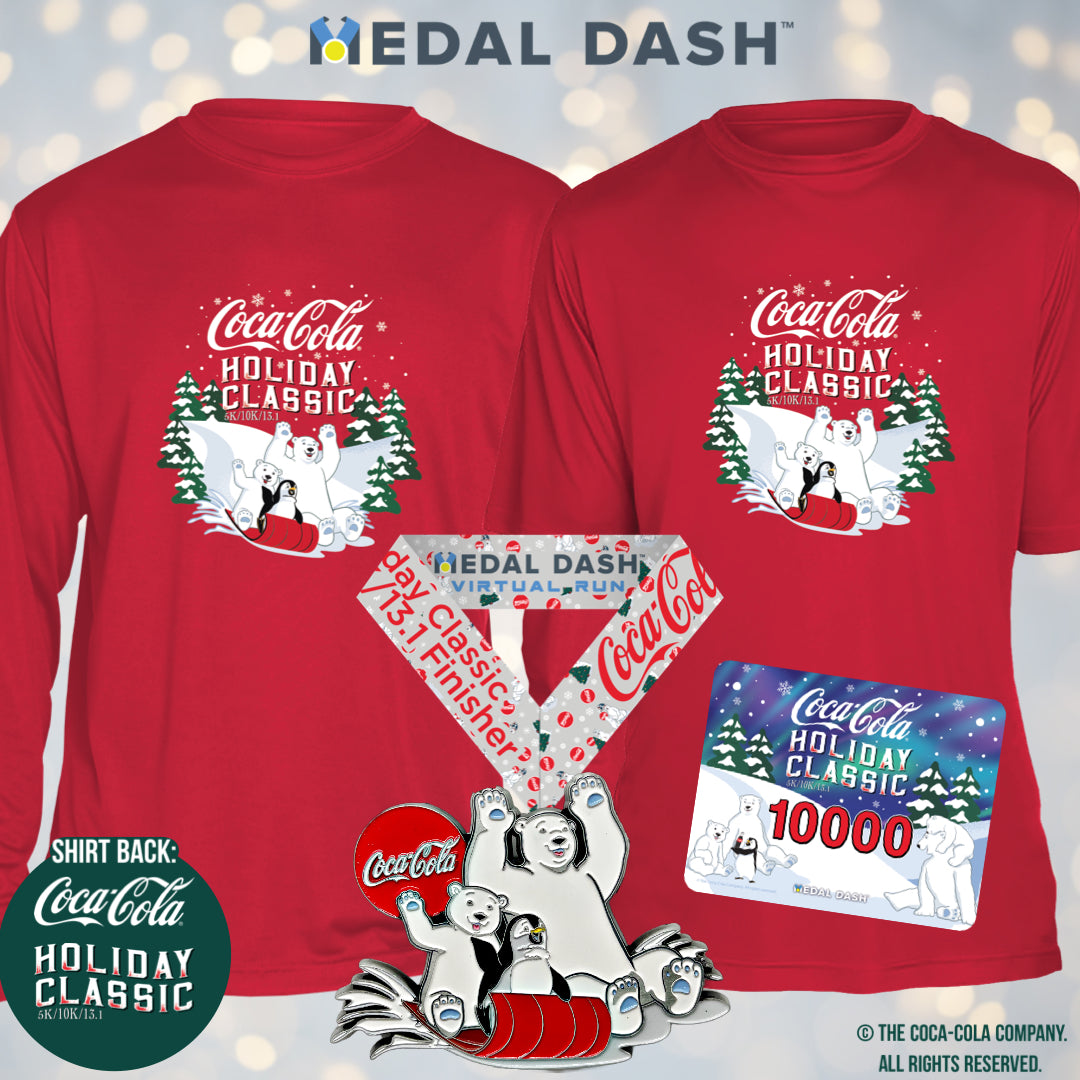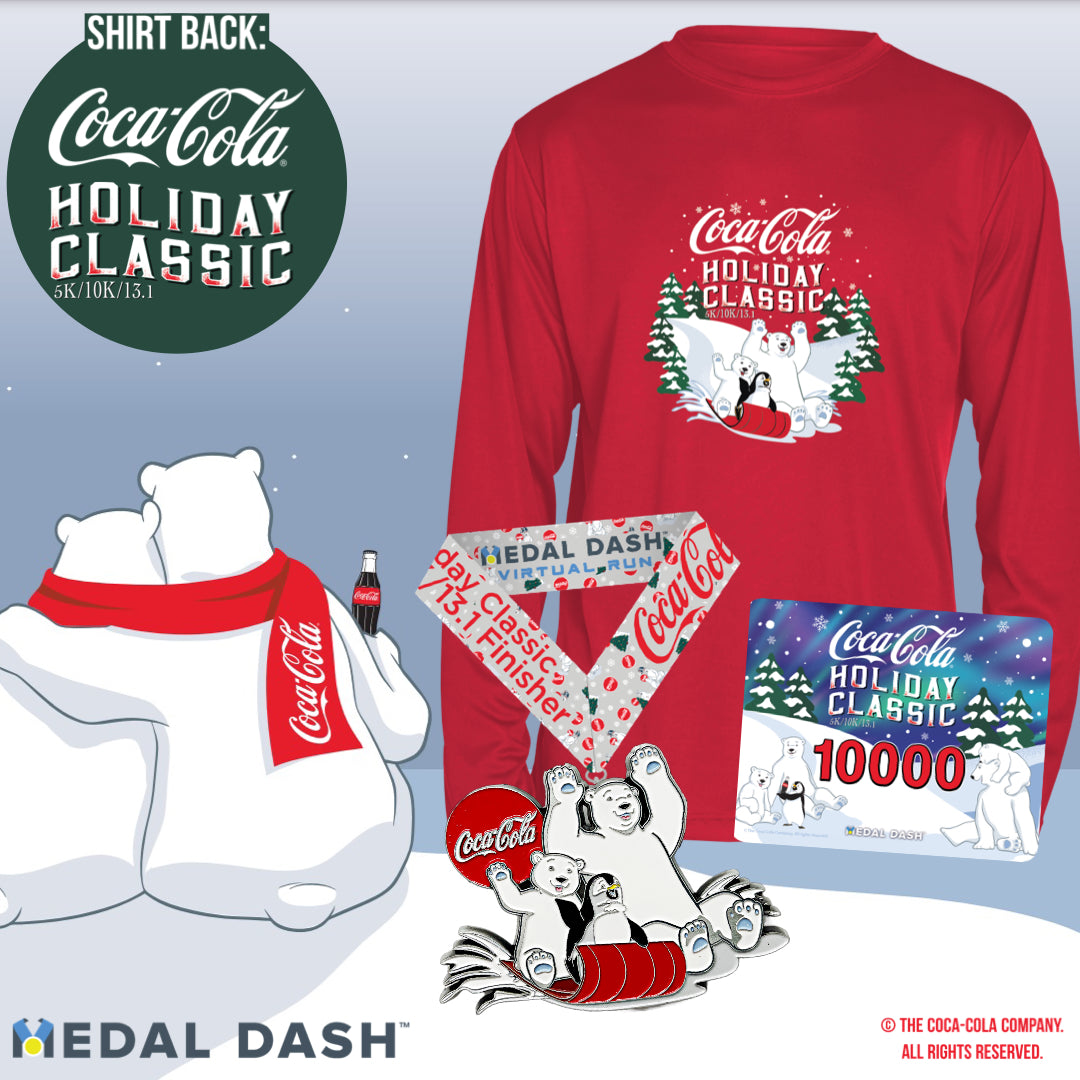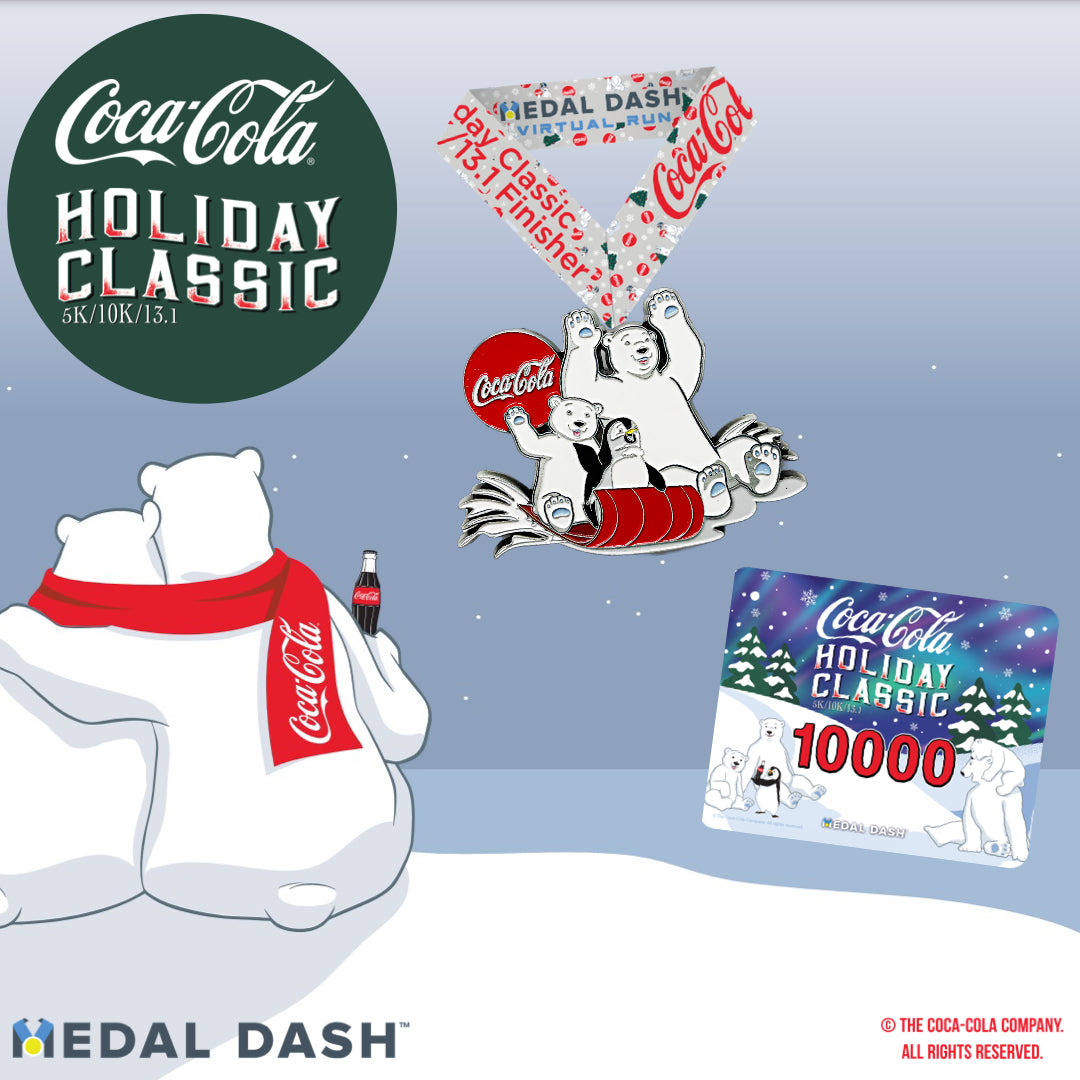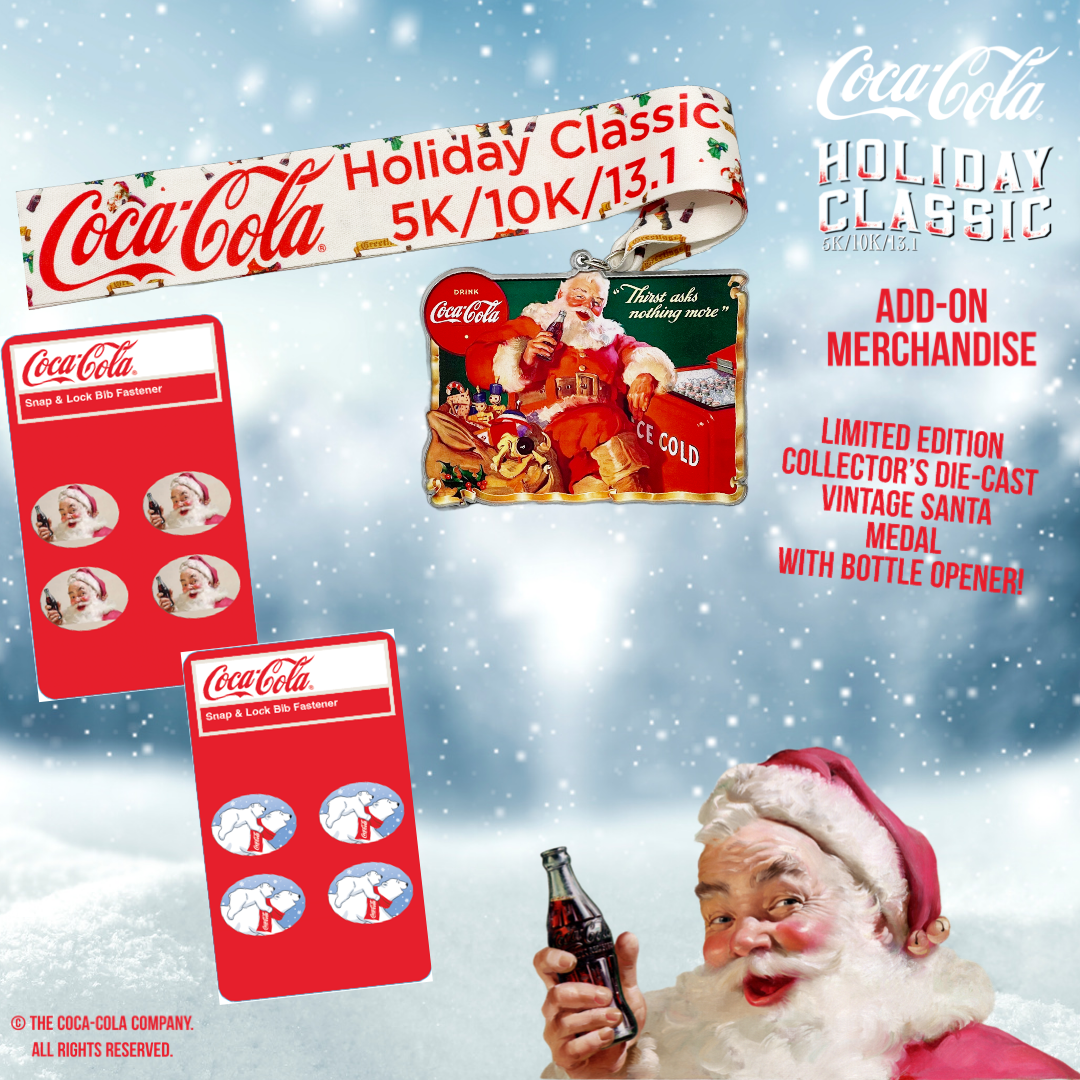 Size Guides - Team 365 (short & long)
Team 365 (Unisex) 100% Poly Short Sleeve Shirt 
| | | | |
| --- | --- | --- | --- |
| SIZE | BODY LENGTH | CHEST | SLEEVE LENGTH |
| EXTRA SMALL | 27" | 37" | 17.63" |
| SMALL | 28" | 40" | 18.5" |
| MEDIUM | 29" | 43" | 19.38" |
| LARGE | 30" | 46" | 20.25" |
| EXTRA LARGE | 31" | 49" | 20.13" |
| 2X | 31.5" | 52" | 22" |
| 3XL | 32.5" | 55" | 22.88" |
Team 365 (Unisex) 100%
 Poly 

Long Sleeve Shirt
| | | | |
| --- | --- | --- | --- |
| SIZE | BODY LENGTH | CHEST | SLEEVE LENGTH |
| EXTRA SMALL | 25.25" | 37" | 33" |
| SMALL | 26.25" | 40" | 33.5" |
| MEDIUM | 27.25" | 43" | 34.5" |
| LARGE | 28.25" | 46" | 35.5" |
| EXTRA LARGE | 29.25" | 49" | 36.5" |
| 2XL | 29.75" | 52" | 37.5" |
| 3XL | 30.75" | 55" | 38.5" |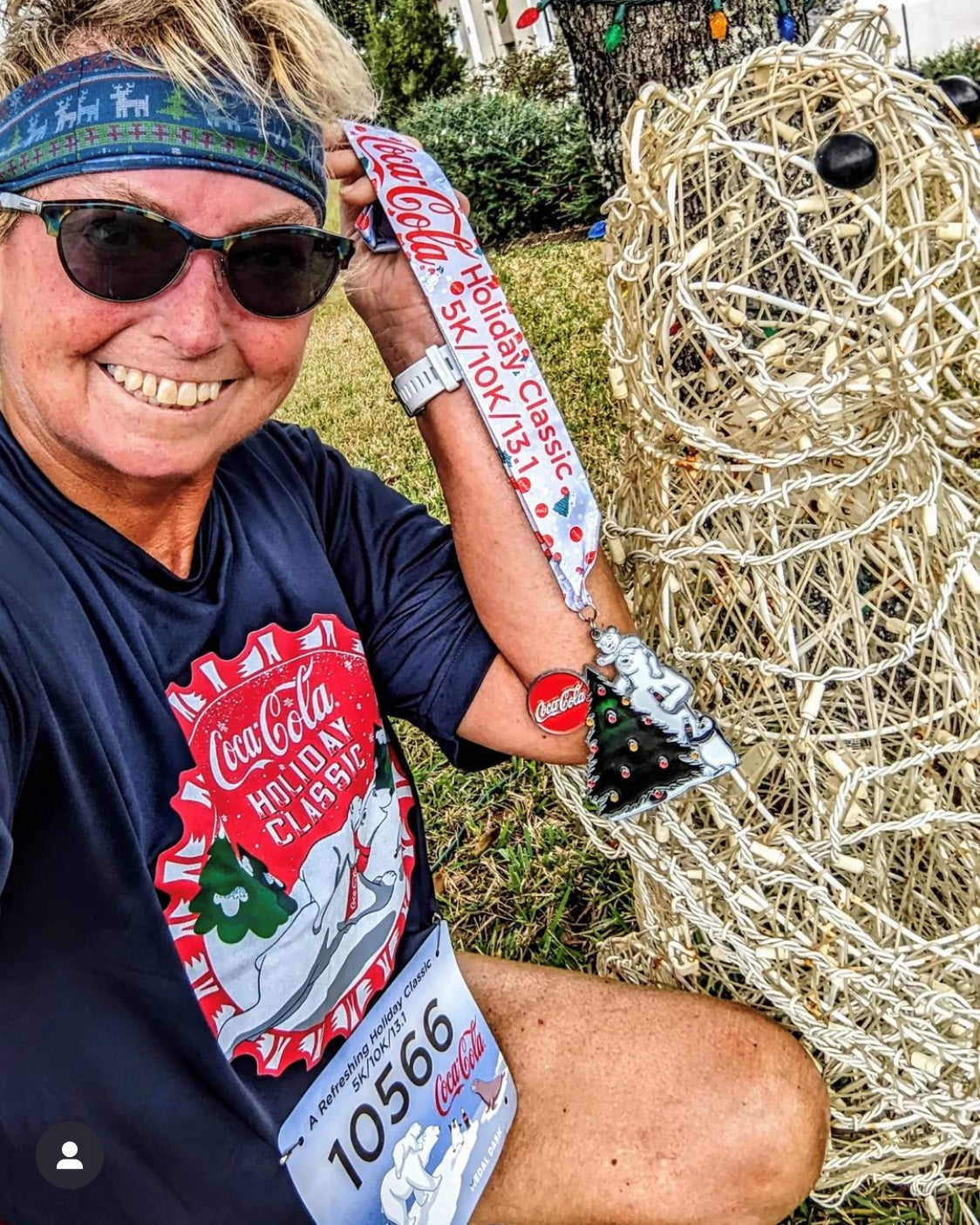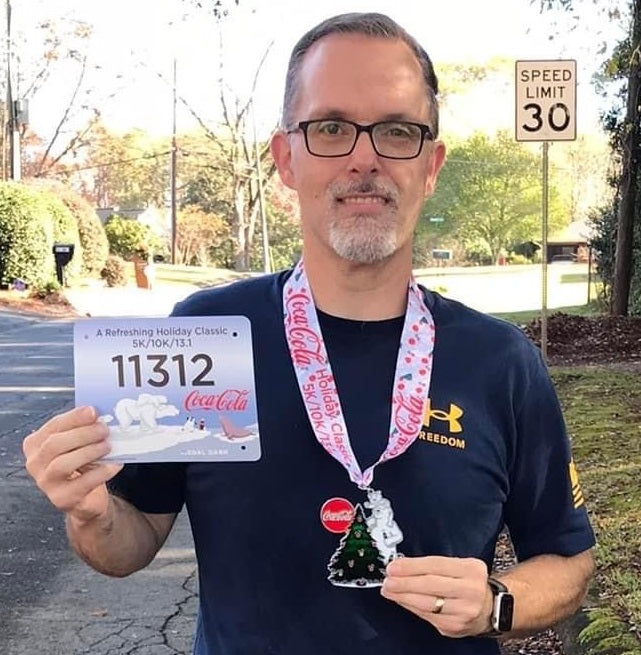 Event Description
Get ready to add a splash of Coca-Cola® magic to your holiday season! Gather your loved ones for a sensational 5k/10k/13.1 run or walk that's more exhilarating than a sleigh ride. Earn the coveted limited edition Coca-Cola Polar Bear finisher swag that's cooler than the North Pole, and if you're up for a dash of nostalgia, grab the exclusive Vintage Santa collector's medal. This isn't just a run – it's a holiday adventure brought to you by Coca-Cola, where every step fizzes with joy and unforgettable memories. Join us and make your holidays sparkle! 🎅🏃‍♀️🥤🎄

In this Medal Dash 'Coca-Cola' event, you can run or walk 3.1, 6.2, or 13.1 miles at your own pace, anywhere, anytime until December 31st! Capture your time, share your race experience, and spread the Coca-Cola spirit with thousands of followers. Celebrate your victory with this limited-edition Coca-Cola Polar Bear die-cast medal🏅, keepsake bib and tech t-shirt shipped right to your front door📦

Don't wait long to join the fun! Our officially licensed events sell out fast!!!⏰

© The Coca-Cola Company. All rights reserved. @cocacola #cocacola
Collapsible content
How To Join The Event

1. Grab your friends and family or go solo and register for this event by purchasing one of the event package options above.
2. Complete the 3.1, 6.2 or 13.1 mile challenge, anytime/anywhere. Use any fitness app/device you prefer to track and complete your distance.
3. Join our internationally supportive community and post your result victory story on social media: @medaldash & #medaldash / #cocacola
Collapsible content
Completing your virtual run & sharing results/photos!

Medal Dash Virtual Run/Walks can be completed anytime/anywhere: in your neighborhood, at the nearby park/trail, or on your treadmill...anywhere you choose!

After you complete your respective 3.1, 6.2 or 13.1 mile event goal, share your event stories and celebratory finisher swag photos with our massive active community of participants across the world via the multiple platform options listed below.

OPTION 1 - FACEBOOK GROUP
*MOST POPULAR*
Join our Facebook Group by CLICKING HERE and share your unique experience/results/pictures with an active virtual cheering section of 40,000+ followers!!!

OPTION 2 - INSTAGRAM 
You can also post your results/experiences to Instagram by tagging @medaldash and #medaldash / #cocacola

OPTION 3 - MEDALDASH.COM
CLICK HERE or click on 'POST RESULTS' in the menu bar at the top of our website.

Remember to use @MedalDash / #MedalDash / #cocacola when you post to potentially be highlighted by our social media team!
Medal Dash Virtual Run Contact Info
GIVING BACK:
At Medal Dash, we are passionate about making a positive impact by supporting non-profit organizations with all each of our events. We have raised hundreds of thousands of dollars over the past few years for charities including K9s For Warriors, Make A Wish, Families of Freedom Scholarship Fund and Feeding America. Join us in our mission to support these worthy organizations and create positive change in the world.
Learn More About Initiatives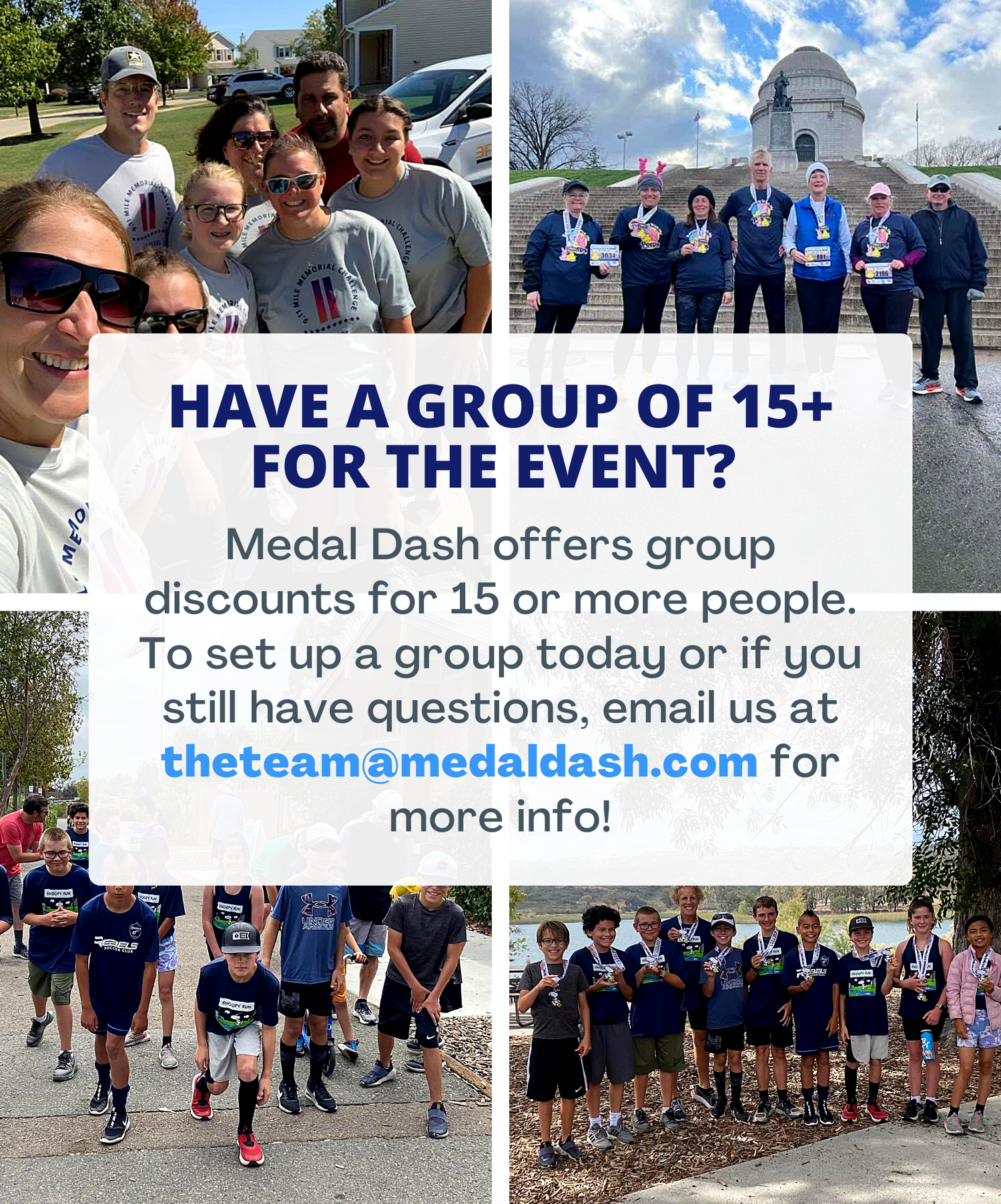 BRING ALONG YOUR RUN GROUP!
We frequently receive and set-up group requests! Our group program is perfect for neighborhood groups, large/small companies, run/social clubs, schools, family, and friends! You must have a minimum group of 15 or more to receive a unique group/club code for sign up with invoicing options available for the team captain, if needed.
To set up a group today or if you still have questions, e-mail us at theteam@medaldash.com for more info!
Exclusively Licensed Events
We offer a variety of exclusive original and officially licensed events that cater to individuals of all athletic abilities and backgrounds. Our events include popular themes like Peanuts® and Halloween®, making it easy for everyone to join in on the fun. Whether you're a seasoned athlete or a beginner, we welcome you to participate in our events and experience the excitement and camaraderie that they offer. Our goal is to provide a platform for people to come together and celebrate their shared passions, regardless of their skill level or background. So, come join us and be a part of our community!
Medal Dash is the largest and most exciting virtual run company in the country with over 250,000 participants!
Run / WAlk Anytime, Anywhere!

Keep motivated with your fitness goals today and find the next running or walking event to add to your schedule: anytime, anywhere!

USE YOUR FAVORITE APP TO TRACK YOUR EVENT DISTANCE

Use your favorite fitness app or device to complete your run, walk or hike and share the thrill of crossing the finish line with your fellow event participants.

HIGH QUALITY RACE SWAG RIGHT TO YOUR FRONT DOOR

Share the thrill of crossing the finish line with thousands of fellow active event participants celebrating alongside and earn the most unique, high quality race swag you'll ever find!